Comments from our patients.
"Dr. Feinblatt was very thorough throughout the process and very reassuring. He is very trustworthy and knowledgeable with his practice, and now my foot feels better than ever." -- 2019
"Dr. Feinblatt and staff were wonderful through whole experience of the surgery and recovery. Dr. Feinblatt always took the time to answer any questions I had and fully explain everything."
-- | 2019
"Doctor saved me from a podiatrist wanting to put a metal plate in my toe. Thanks, Dr, Feinblatt. However, I wish your medical system was Integrated with MyChart with Providence."
-- | 2019
"Overall, I am extremely happy with the results of my surgery and the professionalism of my surgeon. I had a few unexpected issues and the staff was good about getting back to me and getting me into the office as quickly as possible."
-- | 2019
"Dr. Feinblatt and his staff are all so caring and compassionate. I feel I get the best quality of care here. Dr. Feinblatt has the best bedside manner - makes me at east during the procedure and I love his outgoing personality. After my last cortisone shot, I was pain free for over a year."
-- | 2019
"Dr. Feinblatt and staff were excellent. He took the time to explain everything that was going on with my wrist. I would not hesitate to return should I need further care. I would recommend ROC to everyone who needs orthopedic care."
-- | 2019
"I saw three Different foot surgeons before I saw Dr. Feinblatt and he is the only one who helped my foot to heal.  He is very polite, and humble, and a wonderfully proficient and thorough surgeon."
-- | 2019
"I thank you for all your help and work you did to help me recover. It was nice to meet you and a great job with my surgeries. Thanks again."
-- | 2019
"Dr. Feinblatt was very professional and helpful. He was a great help in getting me back on to my feet and running again."
-- | 2019
"Dr. Feinblatt was very professional and answered all the questions I asked. I felt like he gave me good instructions for healing my knee dislocation and made our visits quick yet constructive."
-- | 2019
"I would highly recommend Dr. Feinblatt, as we were recommended to him from a family member. From the first day we visited 11/2017 to our last visit 1/2019 Dr Feinblatt, staff and all ROC orthopedics were wonderful. Very friendly, timely, accommodating, takes the time to listen and find a good care plan. If we ever need future care in this field, I know where we are coming. Thank you Dr. Feinblatt and staff for taking good care of my daughter!"
-- | January, 2019
"Very professional and knowledgeable. Surgery went great and I am recovering quickly."
-- | January, 2019
"Dr. Feinblatt and team were very thorough in this examinations and honest with my situation and what I needed to do in the process. I have found in all situations they were extremely professional and knowledgeable able to answer all questions and guide me to success in healing my toe."
-- | January, 2019
"Dear Dr. Feinblatt,
Thank you for helping me get back on my feet again. I am grateful for the work you do in helping people walk again. I appreciate your care in making sure I healed up well. Have a great year and thanks to Brittany as well!"
-- Devin | January 22, 2018
"Dr. Feinblatt is a superb surgeon and doctor. He and his assistant Brittany have guided me through my achilles surgery recovery in a very professional and friendly manner. The office staff is great as well and the wait time is always short"
-- Braden in Portland | September 2, 2017
"Yippee Kai Yay! That's what a person raised in Idaho cowboy country yells when very happy. And that's what I felt like shouting yesterday when your Physicians Assistant, Brittany, examined my ankle, badly fractured in a fall on vacation. She told me it was healing well and that I could start putting some weight on it.

...I nervously pointed out an area on the x-ray that to my untrained eye seemed to be a bone that had been eaten away a bit. Brittany explained it was new bone growing! I had no idea such a miracle could happen.

Dr. Feinblatt, when you have a bad day and wonder why you picked the career you did, please remember the relief and happiness you bring to your patients. What a difference you make in people's lives."
-- Loretta in Lake Oswego | July 7, 2017
"I think Dr Feinblatt is the best!
Dr Feinblatt was wonderful in diagnosing my ruptured tendon which had been misdiagnosed at another dr's office. I was in surgery 2 weeks after seeing Dr. Feinblatt. And on the road to recovery. Best thing is... I CAN WALK AGAIN! I thank you! I highly recommend Dr. Feinblatt and ROC!!"
-- Betty in Gladstone | February 4, 2017
"Dr Feinblatt & Staff – you and your PRP injections cured me 100%. Thank you!! For almost 2 years, I walked like a duck and hurt with every step. Standard therapies did not work. 7 months after PRP, the right Achilles tendon was pain free, so we did the left Achilles. In two months, the left tendon was painless and 100% good.
Thank you very much. Keep up the great doctoring for us! Your care is essential for our wellbeing!"
2016
"Thank you Dr. Feinblatt! I was able to compete at a 55 mile endurance horse race on a tough Molalla course Saturday 2 weeks after the aircast came off my repaired ankle. That included jogging my mare on her vet trot outs. I competed on the same horse that fell and broke my ankle in the first place and am happy to be back in the saddle and competitive!
Thank you."

-Ankle fracture repair

R.F. - Aug. 2015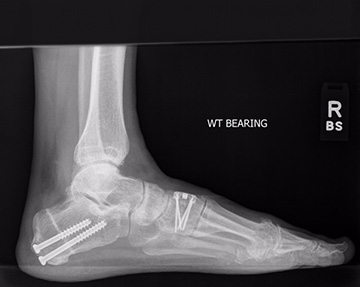 "Dr. Feinblatt, you will be glad to hear that the repaired right foot withstands racketball 3 times a week, and rock climbing at Smith Rocks! Thank you."

-Flatfoot (posterior tibial tendon) reconstruction

C.C. - Sept. 2015
"I feel at my ripe old age of 68 that Dr. Feinblatt was the Best In both bedside manners, proper treatments and as my surgeon, Thank you Dr. And your staff I would give him an A+"
C.C. - Jan. 2015
"Dr. Feinblatt is an excellent surgeon who fixed my Achilles' tendon and gave me my life back. I can't thank him and his staff enough! Thank you all!"
A.R. Jan. 2015 Insertional Achilles Tendinosis
"Dr Feinblatt saved me from foot and ankle surgery. I am so grateful"
Sep. 2014
"Dr Feinblatt is very professional and personable. Surgery went great. Staff was great as well."
Sep. 2014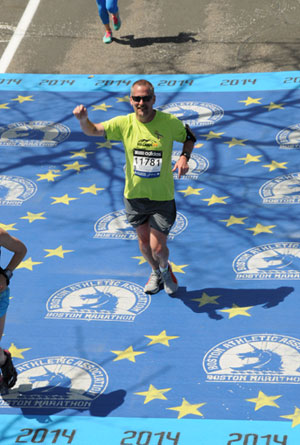 "Dr. Feinblatt,
At my last appointment in March we talked about sending you an update after my marathon. I decided to wait until I had completed my entire "journey" this year.

As you may recall I first saw you in the beginning of February with a complete fracture of the third metatarsal in my left foot. Up to that point my training had been going very well and I was looking forward to my first Boston Marathon. Obviously I was devastated to hear the news of this injury just 11 weeks until the race.

With your treatment and recovery plan I am happy to say that I was able to participate in the celebration of this year's event. While it wasn't my fastest marathon, I was able to enjoy the city of Boston's recovery from last year's bombings. Your direction and advice was key to my return to running.

Personally I wasn't done yet. And again you were the starting point to my healing that allowed me to ramp up my training and successfully run my first 100 mile race this past weekend.

I've included a couple of pictures, one from the finish line at Boston and the other as I approach the finish line at the Mountain Lakes 100, 22 hours and 32 minutes after starting.

Thanks again for aiding in the healing process and getting me back on my feet. Literally.

Gregg Webber"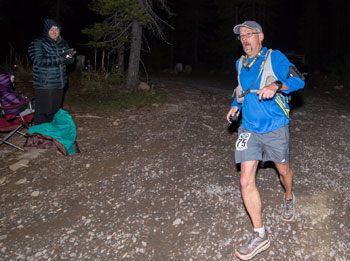 "As an avid tennis player, I had to entrust my foot surgery to the best. Dr Feinblatt is a true pro. I am back doing the sports I love!"
SH - In January of 2014 I had a foot surgery at your facility, Providence Willamette Falls Medical Center. Thank you for providing a superior environment of professionalism. The cleanliness, attention to detail, level of communication with the support staff and anesthesiology provided a confident, assuring environment.
I commend the surgeon, Dr. Jeffery S. Feinblatt M.D., P.C. for being a capable, caring, thorough, professional that I believe represented the highest principles and in the medical profession. He assessed and treated my unique disability and has followed it through the entire process. Dr. Feinblatt even continued the relationship to my Physical Therapist and was instrumental in the education and direction of my rehabilitation, i.e., my positive outcome.
Led by a blessed talent in Dr. Feinblatt, together with Providence Willamette Falls Medical Center, Oregon Orthopedic & Sports Medicine (*Editor's note: now known as ROC - Regenerative Orthopedic Center), my Physical Therapist Ben Baarspul of Black Diamond PT my quality of life has improved and I am thankful for the professional, personal and (complete) services provided.
AW - STAR total ankle replacement patient on 12.12.12. Not being able to walk without pain from bone on bone and a badly out of alignment ankle, I was anxious to have the surgery. I'm so glad I did. No pain from the ankle, although some remedial surgery for swelling will be necessary. Dr. Feinblatt has always been very accommodating, patient and explains things clearly. I have every confidence in his ability to have me back to near normal again. Gives good hugs too!
SW - chronic plantar fasciosis -
"After a decade of increasing pain and numerous frustrating visits to several doctors, I am now nearly pain free. I do not spend nearly every waking moment fixated on the level of foot pain I am experiencing. I have been holding off on planning a trip to Europe due to foot pain. I now feel that I can go ahead with those plans. The plantar fasciitis pain in now well controlled and I feel that I can walk the mall, walk the dog, and walk around Europe with little-to-no difficulty.
Dr. Feinblatt's treatment has changed my life - for the better. I would recommend him to anyone and am most grateful for his help. Nowadays, so many people have horror stories about so many doctors. Dr. Feinblatt listened to me and helped me. Thank you again."
Dr. Feinblatt is very knowledgeable and personable. My surgery went well and the downtime was minimal. I wouldn't hesitate to recommend him.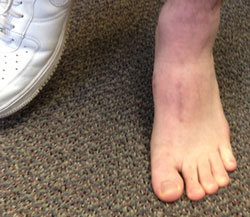 KJ - Lisfranc injury, returned to playing basketball less than 4 months after surgery -"Love these guys, got me back out on the basketball court faster than I could have dreamed"
TR - Meniscoid Lesion of the ankle - "Through many months  -over 7 months I was unable to go down stairs. Dr. Feinblatt suggested a minor surgery to remove scar tissue from my ankle. I was skeptical about this surgery. I had the surgery done and what a BIG difference it has made. I can go down steps with ease and no more pain. Thank you so much!!"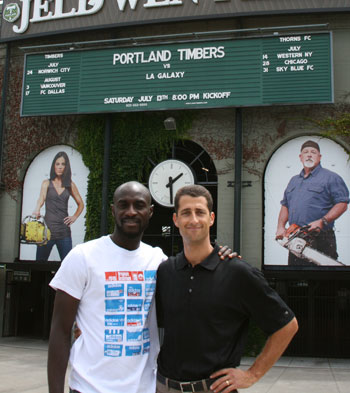 MD - As a professional soccer player, my foot is my price possession. So last year (2012) when I found out that I broke a bone in my foot, I was pretty upset and didn't really know what was next and how the injury will affect the rest of my season and carrier.

However, with the help of my athletic trainers and team doctors, I was able to be introduced to Dr. Feinblatt. I trust my trainers / team doctors, because I know they work with the best in the region depending on the injury. So I got sent to Dr Feinblatt for further examination of my injury. The moment Dr. Feinblatt looked at the X-ray, he immediately scheduled me for the next available opening slot for my foot surgery.

The surgery was perfectly done and I could barely tell I had a screw in my foot. I didn't take my pain medications because I was never in severe pain. A few days later I start walking without my crutches and couple weeks later I was out of my walking boot too. But with his experience he put me back in the walking boot for extra week for the bone to heel property, that extra week paid off big time for me. A few weeks later I started running and could hardly tell that there was a screw in my foot.

I know a lot of people that had the same injury and most of them told me that I will feel the screw in my foot depending on the weather and how much pressure I put on it, but I still never experience any of those after effects.

The thing that impressed me more is how he was constantly contacting me to make sure that I was everything was ok and that I'm not experiencing anything that I'm not suppose to experience after the foot surgery. That shows me that he cares more about his patients and not just the job.

Mamadou "Futty" Danso #98

Portland Timbers
HG - "Dr. Feinblatt is a fantastic doctor! He listened and after trying physical therapy, offered surgery which has let me regain full activity."
NC - "Dr. Feinblatt and staff: Thank you for showing me that compassion still exists in the medical pC- "I just wanted to tell you how much relief the cortisone injection in my left foot brought me. We went to New Mexico for 2 weeks and we hiked, cllimbed up into cave dwellings and back down, and tourist walked in general! My foot was pain free the entire time...what a relief! Thank you again - I appreciate your expert care!"
EB - In October, 2012, Dr. Jeffrey Feinblatt reconstructed my right foot. I had a horrible bunion and hammer toe, but the only pain I was experiencing was from the callous under the hammer toe. It developed to be as large as a super ball and after a day of being on my feet, I found myself walking on the right side of my foot to avoid the callous. This lead to pain in my knee, hip and back.
Dr. Feinblatt is very thorough in his explanation of what is wrong, what his proposal for surgery is, and how long the recovery process is expected to be. He was honest about the possible side effects, including the bunion possibly growing back and other pain never going away. I was in a position where I felt there was no better alternative than to go forward with the surgery. It was complicated and painful, but Dr. Feinblatt was accurate in every explanation. When he said it would be about 8 weeks before a pin would be removed from the hammer toe, he was right. When he said it would be about 10-12 weeks of wearing a surgical boot, he was right. When he said full recovery would take at least six months, he was right.
It has been about 9 1/2 months since my surgery. Although I still experience some swelling on the top portion of my foot (cannot fit into cowboy style boots), I have a lot less pain than before the surgery and my foot, minus the scars, looks terrific.
I do not wish this surgery on anyone. It is a long recovery and rather painful, but if you need this or a similar procedure, I highly recommend Dr. Feinblatt.
Sincerely,
Erin B.
TA - "Dr Feinblatt is a fabulous physician/specialist. My foot feels and looks outstanding. I couldn't be happier!"
EQ - "Great staff, excellent doctor. Thank you!"
TH - Bilateral Ankle arthroscopy, microfracture, removal loose bodies - "Really enjoyed my time spent, considering the unfortunate nature of my injury. Couldn't have felt more confident in Dr. Feinblatt."
TA - non insertional achilles tendinosis-  "The 'plasma rich procedure' was very sucessful! You restored my faith in modern medicine."