Dr. Feinblatt's clinic provides a subspecialty focus with the latest treatment advances as well as time tested techniques
Expertise in knee and foot/ankle injuries
Knee
Knee replacement
Knee arthroscopy
ACL reconstruction
Meniscal surgery/preservation
Cartilage surgery including: microfracture, OATS, allografts.
Foot/Ankle
Arthritis
Achilles tendon disorders
Bunions
Bunionettes / Tailor's bunion
Posterior tibial tendonitis / tendinosis
Flatfoot
Cavus foot
Foot pain
Ankle pain
Heel pain
Hammer toes
Claw toes
Ankle sprains
Trauma / Fractures
Lisfranc injury
Tarsal tunnel syndrome
Post-traumatic reconstruction
Ankle Arthroscopy
Post-Polio reconstruction
Ankle replacement / Ankle Arthroplasty
Osteochondral lesion of talus
Os trigonum syndrome / posterior ankle impingement
Our office is state of the art with a digital electronic medical record allowing instant access to your records, and timely communication with your Primary Care Provider. Digital Imaging (X-ray) is performed at both of our offices so you do not need to wait at a separate imaging facility.  Our office staff is compassionate and well versed in the care of the orthopedic patient who often has mobility and pain concerns.
ROC - Regenerative Orthopedic Center
We are a part of a larger orthopedic group with 6 physicians and 5 physician assistants that can help with almost all orthopedic conditions, so you don't need to worry about transferring your medical information should another injury or condition arise.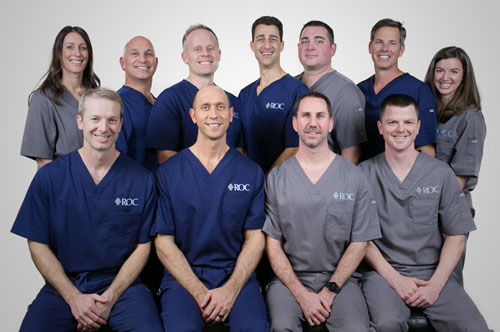 Some foot and ankle issues can actually be caused by conditions of the spinal cord or nerves exiting the back. We do not take care of back (spine) related issues at ROC Orthopedic, but work closely with spine surgeons, physiatrists, and pain specialists if you should need a referral.