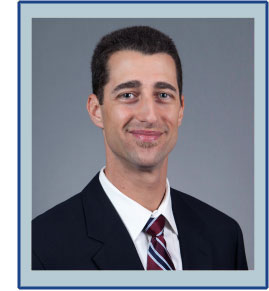 Jeffery S. Feinblatt, MD, PC
Board Certified Orthopedic Surgeon
Fellowship Trained in Foot and Ankle Reconstruction and Sports Medicine
American Academy of Orthopaedic Surgeons (AAOS), Fellow
American Orthopaedic Foot and Ankle Society (AOFAS), Member
AOFAS Patient Education Committee, Member
Doctor Feinblatt is a Board certified orthopedic surgeon specializing in reconstructive Foot, Ankle and Knee surgery and Sports Medicine. He received his undergraduate degree from The Pennsylvania State University in State College, Pennsylvania, and his medical degree from The Pennsylvania State University College of Medicine in Hershey, Pennsylvania. He completed his orthopedic surgery residency at The Ohio State University in Columbus, Ohio. He then traveled to Phoenix, Arizona for The Phoenix Combined Fellowship in which he received sub-specialty training in both Foot & Ankle reconstructive surgery and Sports Medicine.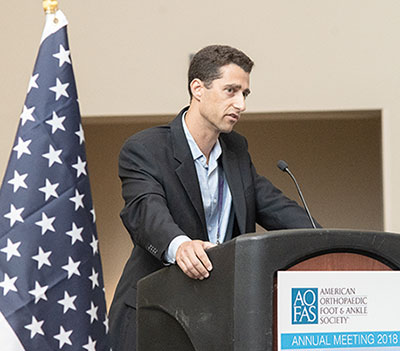 Since joining ROC Orthopedic in 2008 (formerly Oregon Orthopedic and Sports Medicine Clinic) Dr. Feinblatt has actively taught physicians and physical therapists about the latest advancements in treatment of foot and ankle disorders. At Boston in the summer of 2018, he presented to an international audience, and facilitated a discussion on the use of arthroscopy (use of a small camera to assist visualization) for multiple procedures.
Dr. Feinblatt has performed multiple surgical procedures that previously were unavailable in the region, including the first modern ankle replacements performed at both Legacy Meridian Park Hospital, and Providence Willamette Falls Medical Center. Dr. Feinblatt was the first to implant the STAR™ total ankle replacement in the state of Oregon.

AOFAS 2018
In his free time, Dr. Feinblatt enjoys spending time with his wife and 2 children, enjoys running, playing hockey, traveling, SCUBA and tending to a small vineyard and hobby winery.
"As an orthopedic surgeon specializing in reconstructive foot, ankle and knee surgery as well as sports medicine, I have a unique interest and skill set that allows me to perform many procedures in a minimally invasive fashion minimizing postoperative pain and often enabling faster recovery. As such, many procedures that previously required lengthy hospital stays can now be performed as an outpatient (going home the same day) allowing the patient to recover at home in a more comfortable environment, while minimizing the risks associated with hospitalization and decreasing expenses to the patient and the health care system as a whole. Some large deformity correction cases, post-polio, and cavus foot reconstruction may not able to be performed arthroscopically, but the same principles of respect for the soft tissues can hasten recovery.
Fortunately, many conditions of the foot, ankle and knee do not require surgery and I work closely with other care providers including my physician assistant, physical therapists, and orthotists to ensure you return to maximum function as quickly as possible.
Throughout my career I have been fortunate to help professional, collegiate, and high school athletes as well as weekend warriors return to their desired activities."
At ROC we offer a full range of non-surgical options when appropriate including physical therapy, oral and topical medications, injections such as steroids, PRP (platelet rich plasma), and stem cells - all performed at our office. We are not limited only to surgery, nor only to injections as some other
clinics are, but offer the whole spectrum of care.
Because of the specialized care provided in our office, we commonly receive patient referrals from primary care physicians, nurse practitioners, physical therapists, chiropractors, naturopaths, podiatrists, other orthopedic surgeons as well as local emergency departments and urgent care facilities, and of course from our previous patients. Please see the Testimonials page for some of their comments.
Dr. Feinblatt believes that treatment should be tailored to the individual and that good communication and education are cornerstones of medicine. A well informed patient can more actively participate in their care and will recover from injury more quickly.
_______________________________________________
Dr. Feinblatt's clinics provide a subspecialty focus with the latest treatment advances as well as time tested techniques with expertise in:
Arthritis
Achilles tendon disorders
Bunions
Bunionettes / Tailor's bunion
Posterior tibial tendonitis / tendinosis
Flatfoot
Cavus foot
Foot pain
Ankle pain
Heel pain
Hammer toes
Claw toes
Ankle sprains
Trauma / Fractures
Lisfranc injury
Tarsal tunnel syndrome
Post-traumatic reconstruction
Ankle Arthroscopy
Post-Polio reconstruction
Ankle replacement / Ankle Arthroplasty
Osteochondral lesion of talus
Os trigonum syndrome / posterior ankle impingement
Arthritis
Meniscus tears
Meniscal root avulsions
Cartilage injury/restoration
ACL rupture
Every case is unique and needs to be evaluated in the office before a diagnosis can be made and appropriate treatment established.