Dr. Feinblatt's qualified team of experts is here to support you
Amy Winter, PA-C

Amy is a nationally certified Physician Assistant. She earned her Bachelor of Science degree in Biology at University of California Riverside and Masters of Physician Assistant Studies at Pacific University in Hillsboro, Oregon. She completed a Hospitalist Medicine fellowship in Tacoma, Washington which allowed her to grow as an early Physician Assistant. After completion of the program she made the decision to transition to Orthopedic Surgery in which collaborative communication exists between the patient and the provider with the long-term goal of restoring a patient's functional status after an injury or improving a patient's lifestyle in chronic conditions.

She is involved in all areas of our orthopedic patient care in the office, hospital, and operating room. She is a fellow member of the American Academy of Physician Assistants and Oregon Society of Physician Assistant. In her free time, Amy enjoys the outdoors and enjoys camping, hiking, kayaking, long distance running, and cycling.

Amanda Koenig

Amanda is our office manager and is responsible for the efficient functioning of the front office. She oversees both the front office and clinical staff in its daily tasks and works diligently to ensure that your experience is seamless and pleasant. Our goal is for you to have a superior experience with each aspect of our office.

If you have feedback regarding your experience, please contact Amanda at (503) 905-4102

Cheryl Scott

Cheryl Scott is our scheduling manager and is tasked to manage all of the surgical scheduling for Dr. Feinblatt as well as one other surgeon in our office. She works hard to ensure that from the moment a surgery is considered, careful planning and information sharing are the top priority. Initially our staff will obtain any prior authorization needed for surgery. Cheryl will then communicate with you regarding the date, time and location of surgery as well as your first post-operative appointment. (Please see "What to expect the day of surgery")

If you have questions regarding scheduling your surgery, please contact Cheryl at (503) 905-4147
Our office is state of the art with a digital electronic medical record allowing instant access to your records, and timely communication with your Primary Care Provider. Digital Imaging (X-ray) is performed at both of our offices so you do not need to wait at a separate imaging facility.  Our office staff is compassionate and well versed in the care of the orthopedic patient who often has mobility and pain concerns.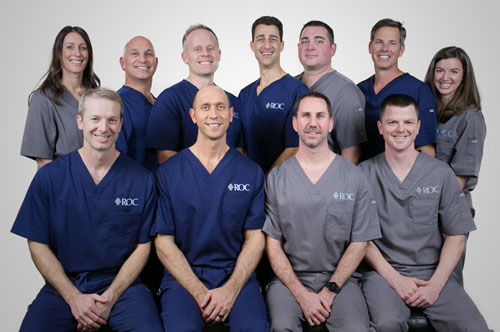 ROC - Regenerative Orthopedic Center
We are a part of a larger orthopedic group with 6 physicians and 5 physician assistants that can help with almost all orthopedic conditions, so you don't need to worry about transferring your medical information should another injury or condition arise.
Some lower extremity issues can actually be caused by conditions of the spinal cord or nerves exiting the back. We do not take care of back (spine) related issues at ROC Orthopedic, but work closely with spine surgeons, physiatrists, and pain specialists if you should need a referral.